We had planned to do a blog about foreclosure postponement techniques this month but like many plans in action, we were all stopped short a few weeks ago when the Corona virus went from some obscure concern on the other side of the globe to a very real concern with an unprecedented ripple effect through our personal lives, our government, health care system, stock market and of course, the real estate market. So, instead, I'm going to talk about a few of the items I discussed with my agents on our weekly Mastermind call last Friday regarding how the Covid-19 crisis is impacting our businesses.
TAR Release a Covid-10 Addendum
Last week, the Texas Association of Realtors (TAR) released a new Covid-19 Addendum for voluntary use by Texas Realtors. The addendum:
Allows either party to extend the closing date by 30 days if, due to voluntary or compulsory quarantine or closure, the closing cannot occur on time.
If the property still has not closed, then it allows either party to cancel the contract and earnest money will be released to the buyer.
Also allows for termination by either party, with earnest money returned to buyer if buyer cannot get loan due to loss of income, even if financing period has expired.
Can be used with existing or new contracts.
I'm glad that TAR was proactive in providing this addendum. However, agents should carefully consider if it's use is in their client's best interest. Personally, I feel that the addendum is more advantageous for the buyer and would hesitate using it if I represented, or was, the seller. Agents may want to instead consider an amendment to extend closing dates, financing periods or other changes necessitated by the outbreak.
Busted Contracts
Over the last two weeks I have seen a rash of "busted" contracts… where a party of the contract terminates the contract outside of any option to terminate. There are many reasons buyers or sellers may have wanted to get out of contracts due to the outbreak: job loss, lack of job security, inability to secure the loan, moving plans disrupted, general economic uncertainty, quarantine issues. The TREC 1-4 Resale contract does not have force majeure clause. Therefore, terminations due to repercussions of the corona outbreak, when done outside of the contract provisions that allow for a termination, can create quite the conundrum.
Agents should be careful to advise their clients to consult an attorney to determine the potential legal ramifications of terminating outside of an option. Furthermore, the canceling party should immediately release the earnest money to the other party and potentially reimburse for any expenditures made by the other party for prepaid items such as surveys and HOA documents.
Agents should also discuss these situations with their Broker and follow their advice. Ultimately, the canceling party is risking litigation and it's unclear how judges might rule in these unique circumstances. I urge everyone to have patience and understanding. I know that losing a contract days before closing in a very uncertain market is going to make seller's see red, but I feel we have to weather this storm together and I'm hopeful that we don't see too much costly and timely litigation as a result of these situations.
Essential Business
Depending on where you do business you may or may not be considered essential. It's been a very confusing situation with cities and county's issuing their own Shelter in Place orders with varying definitions of essential business. Many Realtors are still showing homes while some buyers, sellers and Realtors have hit the pause button. The National Association of Realtors and the Texas Association of Realtors have released some very good guidelines and information to help us do business during this difficult and uncertain time. However, they have left specific rules regarding what you can and can't do to the discretion of Brokers. https://www.texasrealestate.com/about-us/newsroom/coronavirus-faqs/
https://www.nar.realtor/coronavirus
NAR Flash Survey
March is wrapping up and it won't be long before we start to get the monthly market reports giving us more data on how the market has been affected by the Corona outbreak. April numbers should be even more interesting and reflective since a portion of March was business as usual.
NAR performed a flash survey of Realtors all over the country to take the pulse of buyer and seller sentiment the week of March 9th and again on March 16th. Not surprising, many buyers decided to hold off on their home search and Realtors also felt a significant decrease in the number of homes on the market. It's amazing how much can change in a week's time! Check out the full report here: https://www.nar.realtor/research-and-statistics/research-reports/nar-flash-survey-economic-pulse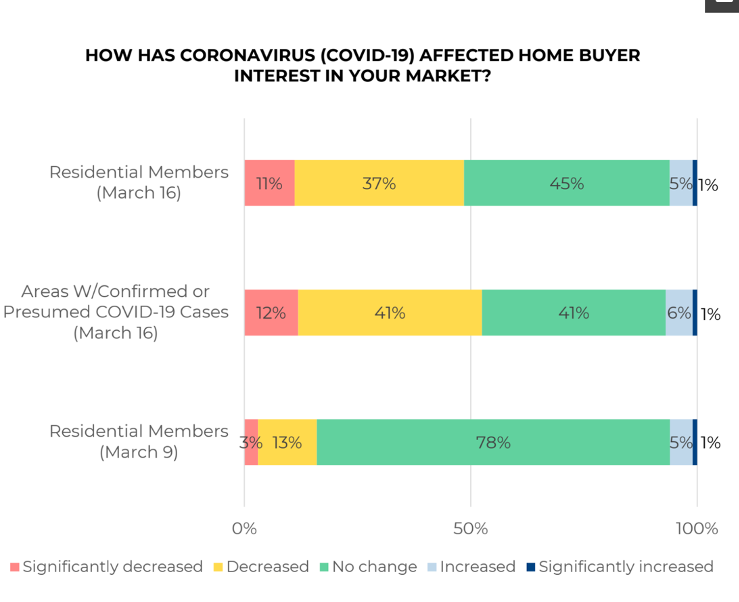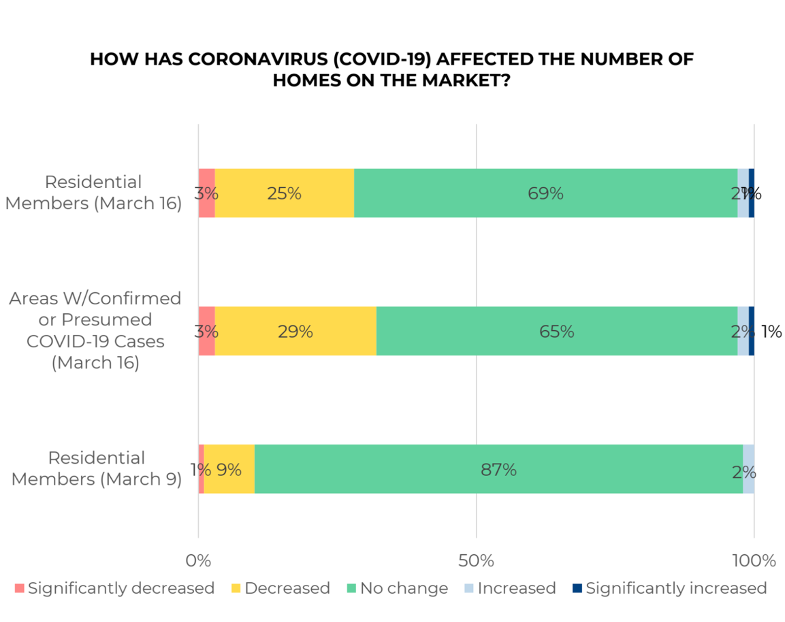 Mortgage Market
I consulted with my preferred lender, Brandon Sparks with Barton Creek Lending to get the pulse of the current market. He had several points:
Fannie Mae and Freddie Mac loans, along with FHA and VA, loans between $100K-$510K are good to go! However, interest rates on these loans are still volatile but are currently in the 3% range.
Jumbo and non-QM loans are "frozen dead in the water."
Appraisals are currently taking about 15 days in the Austin market which is slowing down closing times to about 45 days. Personal note… I anticipate we will continue to struggle with appraisal issues as safety concerns by both appraisers and house occupants are making some appraisals difficult to complete. Fannie Mae recently issued some new guidelines allowing for exterior and desk top appraisals in some cases to alleviate these concerns.
The underwriters are getting very strict and if your borrower does not have solid work from home employment, are on furlough or half time it's very likely that their loan will need to be re-underwritten or simply declined.
All and all, I think we can all agree that we are in a very uncertain time and the long-term fallout is difficult to predict. However, I think it's obvious that there will be some ripple effects that will result in an increase of distressed homeowners. My advice to Realtors is to learn how to help these homeowners. Learn about foreclosure prevention techniques, short sales, Sub To's and Wraps. Maybe even decide that it's time to learn creative investing techniques that you can use to build your own wealth while helping people in their most desperate times. It's time to pivot and climb out of that typical retail box to discover new opportunities.