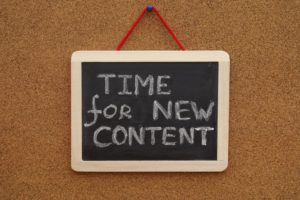 My extended family has a Christmas tradition that Dan finds a bit maddening. When we gather to celebrate the holiday and exchange gifts we take turns as each person opens their stocking and Christmas gifts as the rest of us watch. I really enjoy giving each person their own time to open their gifts, thank the giver and see all the great stuff everyone gave each other.
We've kept up this tradition for quite some time but the trouble is that every Christmas it seems the group gets bigger. What used to be just me and my two sisters with my parents is now multiplied with our spouses, our kids, their spouses, their kids, assorted in-laws and a gaggle of 5 little girls including a new set of twins. Things have gotten out of hand to say the least. What used to take an hour or so can now stretch well into the night with no time left to do anything else.
Much like the Sherosky clan, our StepStone family has grown a lot in the last few years and based on your comments on our recent survey many of you, like Dan, are ready for a little change in tradition. And, while there are things I really love about how we've done the MasterMinds in the past, it's time to take a new direction.
Beginning last month in Houston & San Antonio we started a new format for the MasterMind lunches that so far has been very well received. We will no longer go around the room for introductions and invitation to ask question/start discussion. This has gotten too repetitive and leaves no time for other topics or market reports. Instead, everyone will get name tags to help us get acquainted with each other & our guests. The first 15 minutes will be for networking and getting settled in and then we'll start the meeting with announcements followed by a market report and discussion.
Following that, each meeting we will have a special topic or presentation. Usually, there will be a deal anatomy following that presentation but sometimes we may decide to carve out more time for particularly lengthy or important presentation. We think this will help ensure new and usable content at each meeting and give us a bit more structure. While Dan or I may give the presentation we will also be looking for guest speakers, including our own agents, to contribute to the content of the meeting. Finally, there will be time following the presentation and deal anatomy for general questions and/or deal pitching.
In the coming weeks, Dan and I will put together a schedule of topics. We'd love your input! What do you want to hear about? Who would you like to see as a guest speaker? Do you have a special skill or knowledge that you would like to share with the group?
Here is our brainstorm list so far… let us know what to add or what you love on this list!
Fair Housing/ Agency & Disclosure/ Foreclosure Prevention/ New Tax Law/ Working with Investors/ Net Listings/ Short Sales/ Types of Liens/ Auctions/ City Code/ Historical Homes/ Private Money/ Building Rapport/ Wholesaling/ Owner Finance/ Flip Tricks/ Property Management/ Probate/ Problem Sellers/ Negotiations/ Social Media/ Networking Skills/ Appraisals.
If you haven't been attending the MasterMind lunches I challenge you to add them to your calendar today. You have a great network of colleagues sharing deals, expertise and encouragement that you are not tapping into! Take advantage!