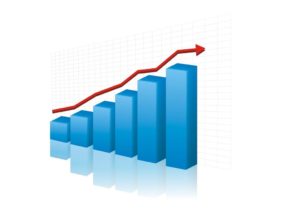 It's not secret that StepStone has been enjoying tremendous growth over the past two and a half years.  As of this morning, we have gone from 4 to 136 agents and now are in the top 4% of brokerages in the state of Texas!  Thank you to all who have entrusted your license with us… it's been humbling and yet exciting!
It's time we take this brokerage to the next level for all of us!  We know that making it in this business requires help.  Now that we've grown into a large brokerage, it's time we start giving our agents the tools and training necessary to take YOUR business to the next level.
Luckily, our size means that we have a very predictable income stream.  We know what our revenue will be based on our number of agents, and therefore, what it will be in the future as we continue to grow.
We could continue to slowly grow and wait until our revenue supports the investments that we want to make in your.  Or we can ask our agents to invest in StepStone, enjoy residuals and massive future equity and invest back into their business immediately!
We have chosen the latter and are NOW offering to allow agents to invest in StepStone so we can invest back in YOU!
What will funds be used for?
We really see StepStone agents has having four crucial needs to be more successful in Real Estate — Infrastructure, Leads, Funds and Training.  Our focus in 2017 is creating all four of these avenues and having all fully launched by 2018.
Infrastructure:  This is the bulk of the investment.  MojoVest needs to be re-developed for ease of use, features that you really need (like instantly populating data about property) and for better and easier management of your licensed activity.  Furthermore, to make sure you get top-quality service from the StepStone team, we need to hire one more full-time employee and move Broker-Assistant from a part-time to a full-time position.  Unfortunately, this creates another need — office space!  We cannot hire another person until we can provide them space and office equipment!
Leads:  The second largest investment is in leads.  We have already created StepStone Leads, LLC and are beginning pilot programs to generate distressed seller leads that you will be given access to.  This will allow us to "pool" resources and stop cross-marketing the same people so that we can compete with We Buy Ugly Houses.  This will mean more deals for all of us!  In addition to that, we need to revamp all of our internal marketing including our public site.  Our agents need a site that gives them credibility and allows them to create personal agent sites with IDX ability (ability for the public to search listings).
Funds:  We also recognize that sometimes deals get lost due to a lack of funds, especially when the need doesn't meet the products available (like hard-money loans).  Therefore StepStone will be working to create more avenues for funding sources such as second liens on Sub2 property and long-term hold funds.  More on this forthcoming, but we are excited about where this is headed.
Training:  Through our infrastructure changes and new-hires, we have already started new and better training programs moving from monthly webinars to live workshops, MCE credit and more video tutorials.  We also are working to develop the Captain program so that everyone has the resources they need to make every lead successful!
How do your invest?
We are not asking for funds without giving back.  We are doing that by what we are investing in, but more importantly, by giving you an equity-stake in StepStone.  Unfortunately, I can't go into detail in this blog, but all the details of your potential and likely returns are found on the crowdfunding site.
Crowdfunding will allow us to track, maintain and pay dividends on your investment and gives everyone the opportunity to invest!
Some of you have already invested and those funds will be showing up on the site soon!  To check out the offering, you need to visit MassVenture.com and sign-up.  There are several steps (bureaucratic hurtles to overcome) but once signed up, you can check out our offering, our financials, the expected returns and ask questions.
Start here:  https://www.massventure.com/
If you need any help, please reach out to me and I will make sure you find the right tools you need to make your investment into StepStone.
Please hurry!  We want StepStone to be wholly owned by only StepStone agents, but unfortunately, we can't stop or control outside investors.  The only way to do that is to reach our funding goals quickly before word gets out.  We are being extremely generous in the sale so we want to be sure it benefits StepStone agents before all others!
Thank you for being a part of StepStone!  Please join us in our effort to make everyone more successful!